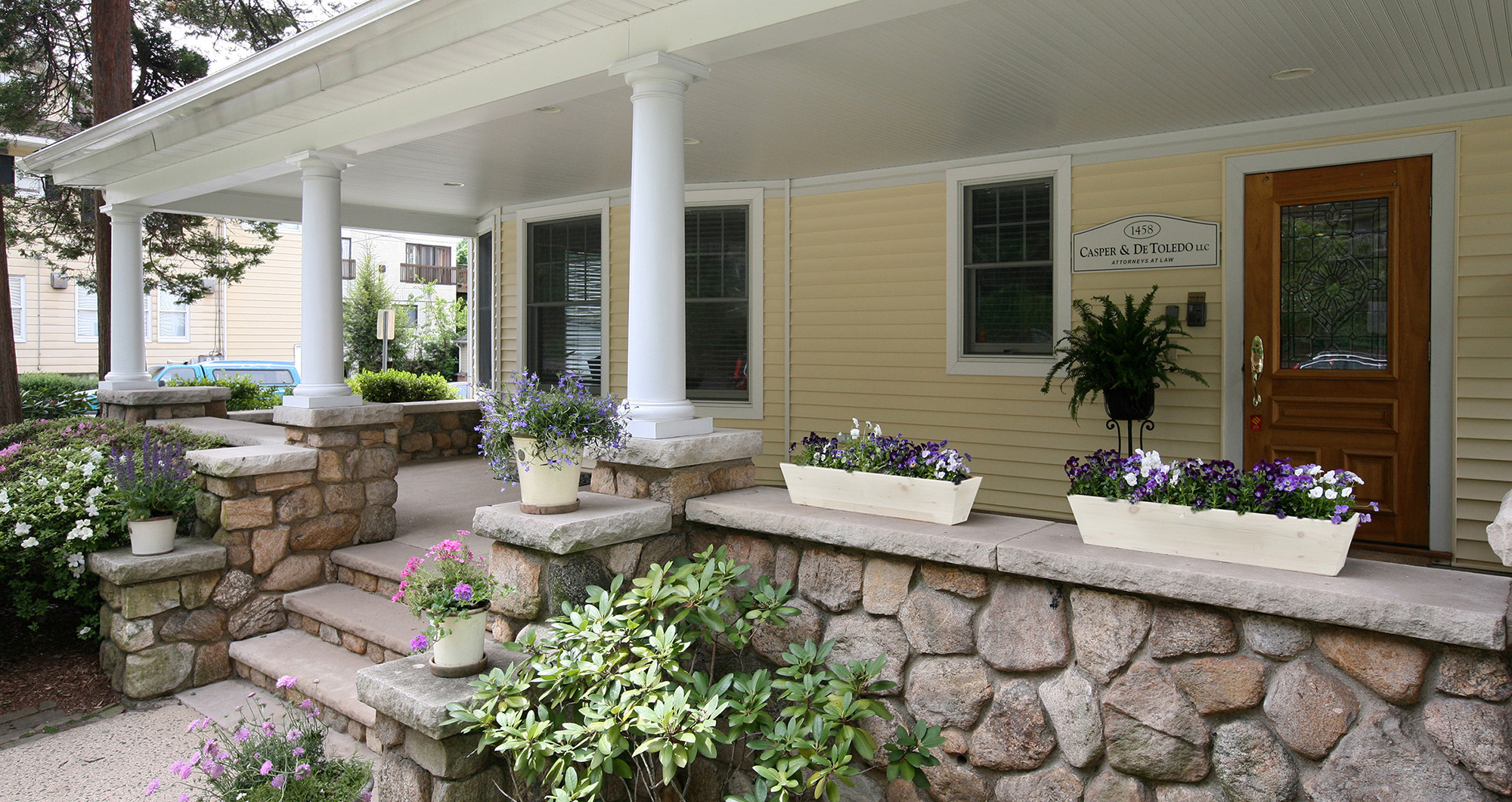 Stamford-based Personal Injury Lawyers
Focused on Traumatic Brain Injury Cases throughout Connecticut
At the Connecticut law firm of Casper & de Toledo LLC, our Stamford personal injury lawyers have a far-reaching reputation for our skills regarding cases involving traumatic brain injuries. These cases arise from a variety of situations, including car accidents, serious falls, assaults, birth trauma, and sports injuries. Our verdicts, ratings, and results reflect our prominence in the legal field. Our firm also handles a wide range of employment law matters, including discrimination & harassment, employment contracts, and whistleblower claims throughout Connecticut.
Deeply Committed to the Pursuit of Justice
Our attorneys are deeply committed to ensuring that the legal system serves the needs of our clients. We bring to our cases dedication, significant knowledge, and repeated success. If you or a loved one have been impacted by a serious injury, you need a law firm you can rely on to protect your future so you can focus on healing in the present. Don't just settle on any attorney. Schedule your free consultation with a personal injury lawyer at Casper & de Toledo LLC today.
Schedule Your Free Consultation
Put Our Reputation for Results to Work for You
Learn More about Traumatic Brain Injuries
The lawyers at Casper & de Toledo LLC focus on traumatic brain injury cases because of our extensive medical and legal knowledge in this area of personal injury law. These cases are unique because TBIs are often understated and mischaracterized. At Casper & de Toledo LLC, we believe the old adage that knowledge is power. The first thing to understand is the significance of the phrase "A concussion is a brain injury," and our website contains some important insights into this confusing medical and legal issue. If you need to speak to a Connecticut traumatic brain injury attorney, contact our firm for a free consultation.
The mission of Casper & de Toledo is to ensure that the judicial system works for everyone, not just a select few. Our attorneys are committed to advocating for the rights of our clients and striving to attain the best protection and highest compensation permissible under the law.
We are not deterred by aggressive opponents like insurance companies, HMOs, governmental agencies, or corporate giants. Our team fights hard for our clients because we believe in their causes, we believe that justice is attainable, and we take pride in our commitment to excellence in our legal practice.
We are dedicated to maintaining the highest standards of conduct, ethics, and diligence. Through our experience, we have developed a strong foundation in the knowledge of the law. This means that we can not only establish trust with our clients, but we can also creatively apply the law to our clients' unique circumstances.
Client Testimonials

So very grateful that you took on [my daughter's] case October 2015…we know that you are the Best attorney that could have ever represented [her]. Thankful for your expertise for referring so many wonderful doctors and brilliant people…My entire family thanks you for all you have done for us. They could not stop saying what an amazing attorney you were. I will always recommend you to anyone in need of a TBI attorney.

Kelly

Thank you so very much for all your hard work, understanding, and compassion during a most difficult time in my life. Your professionalism, along with your kindness has left me at a loss for words. I will never forget the both of you and all that you have done for me. I could never thank you enough!

Joy C.

Thank you so much for believing in me. You made one of the most difficult times in my life a little better. This will help me put that place and those people behind me. I feel that you brought them to justice and maybe they will treat people better.

Deborah G.

Dear Attorney Casper- This is such a hard note for me to write – I don't know how to thank you enough for all you have done for me over the past four years. You have supported and encouraged me, and treated me like a daughter, and that means so much. I was so afraid to go through this whole process, but you have made it easier by always being there for me. I don't know how to thank you enough for caring about me so much. Thank you for offering to be there if I ever need help or advice. Your kindness has made such a difference. I will definitely keep in touch! Thank you again.

Kim Olson

Stewart Casper is an incredible attorney. Four and a half years ago I was involved in a slip and fall accident and sustained injuries that resulted in permanent disabilities. We had initially retained a different attorney who had completely mishandled the case and insulted us by questioning our understanding of the English language. Two weeks before the trial we made the decision to retain Attorney Casper and it was the best decision we could have made. His great knowledge, experience, and attention to detail were evident in how he handled our case. Not only are we extremely happy with the result of our case, but Stewart also treated us with respect and compassion, it didn't matter how heavy our accents were. We would certainly recommend Attorney Casper to anyone, especially to other Russian-speaking individuals or anyone else from Eastern Europe.

Natasha Abrimov

I just wanted to thank you for all of your time and support that you and your team put into my case. I can't thank all of you enough for all of your hard work. You are wonderful and compassionate lawyers. I feel a huge burden has been lifted from me and it is a lovely feeling. Thank-you. There just aren't words to tell you how grateful I am.

Kate Davis

This firm helped me navigate a very difficult time in my life. Not only did Attorney Casper win the case, he guided me along the way so I understood what was going on. Amazing group!

Laurie R.